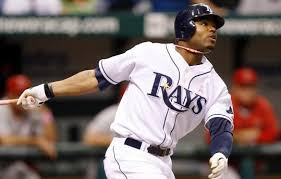 Here's an odd, but conceivable theory that I've formulated over the last few days:
We've been told that Aki will be returning to the lineup sooner than expected, which is good news for everyone, except for Ben Zobrist who had assumed he'd be parked at 2B for the remainder of the season (don't get me wrong, I'm sure BenZo is happy for Aki as a person and friend, but I'm certain he can't help but feel disappointed that he'll lose the 2B position- its human nature), but this opens up some alternative possibilities:
Aki's coming back in as soon as a few weeks, and suddenly this week Aybar gets a few starts at 2B, allowing Zobrist to re-familiarize himself with the outfield, so what's the big deal, right?
What if there's more to that than meets the eye?
What if Zobrist is getting primed to take over LF in the next few weeks?
Is it too far-fetched to think that with the return of Aki at second coupled with the idea that it'd be a crime to not start Zobrist somewhere, that the Rays are getting prepared to move CC before the deadline?
Its entirely feasible considering that the Gabe Brigade has done a fine job of holding down the fort in RF, and that the Rays, having been assured that Aki can return soon, and knowing they can't afford CC's $10M salary next season anyways, could plug Zobrist into LF for the remainder of this season.
Then headed into next season the Rays trade Aki, thereby freeing up all the salary that Friedman has said they'll need to clear (between CC and Aki's contracts)- and you've got Jennings or Perez in LF with Zobrist as your new 2B for 2010.
Everyone wins.
So just to recap, here's the theory:
This year:
CC to be traded, Aki back to 2B, Zobrist to take over in LF
Next year:
Aki traded, Zobrist to 2B, Jennings/Perez in LF
Possible? What do you think?