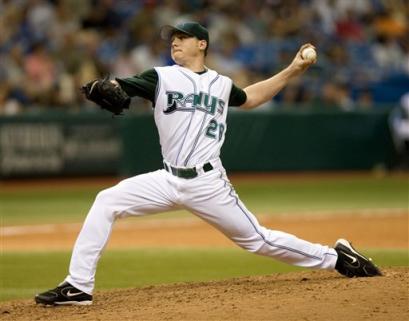 UPDATE (Sat. 10:20 AM)
After the deal kept coming and going, and no one could make up their mind I decided to back off of the story until it unfolded more clearly. Now it has:
Kaz has been traded to LAA who are now responsible for the remainder of his contract. The Rays receive the aforementioned prospects as well as a player to be named later (more info about the PTBNL over at
Rays Index
).
Thus ends the Scott Kazmir era in Tampa Bay. Thanks for all the great games and all the joy that you brought us just 5 innings at a time.
The most significant part of this deal is that it now seems very likely that the Rays will be able to exercise their option on CC and keep the face of the franchise around for a while longer. Desmond Jennings and Fernando Perez just had some air let out of their tires since the opportunity to take CC's roster spot next season now seems less likely than ever. Time will tell.
UPDATE (4:50 PM)
Several sources are now reporting that the deal has been finalized, despite the fact that
Kazmir
was completely in the dark as of approximately 20 minutes ago. If
Kaz
was truly blindsided by this move I am extremely disappointed with the Rays on several levels.
-------
Just popped-in over at
Rays Index
to get smacked in the face by this headline:
"Angels close to deal for

Kazmir

"
WHAT?!
I'm baffled.
Anyways, here's the article (per
mlb
.com):
By Lyle Spencer / MLB.com
08/28/09 3:28 PM ET

ANAHEIM -- The Angels are on the verge of bolstering their beleaguered rotation for the stretch run by trading for left-hander Scott Kazmir from the Rays for a
pair of prospects, a club source told MLB.com.

The Rays will get pitcher Alexander Torres and third baseman Matthew Sweeney in return in the deal, which is expected to be announced later today.

Kazmir is 8-7 this season with a 5.92 ERA in 20 starts for the Rays.
With Price ready to be shutdown or bullpen bound what is the next move? Wade Davis? Angels (now Rays') prospect Torres? Andy
Sonnanstine
? I'll sleep on it, or see what moves the Rays make tonight. Maybe the TV guys will have the answers.